She is starting a quilt-a-long of the Nested Churn Dash. This is big fun quilt block that has taken on a life of it's own. Starting June 1st, 2014, Jane will be taking us through the steps to make a 24″ x 24″ nested churn dash block.
She has invited 10 of her favourite quilters who couldn't pass up the opportunity to "Quilt Along with Jane."
For the more adventurous, you can continue on and using the 24″ x 24″ finished block you can make a pillow or mini quilt or make a quilt, ranging in size from 28″ x 80″ (1 x 3 block bed runner), 54″ x 54″ (2 x 2 block setting), 80″ x 80″ (3 x 3 block setting) and 106″ x 106″ (4 x 4 block setting).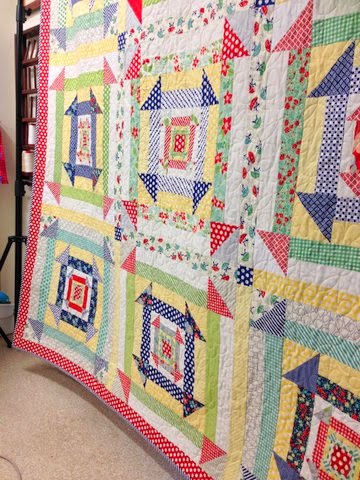 Fabrics – April Showers, Happy Go Lucky
by Bonnie and Camille for Moda
Mark your calender
June 1st – Requirements, fabric selections and layouts.
June 6th – Tips and hints for making the blocks.
June 23th – Making a quilt using the Nested Churn Dash block.
June 30th – Finishing the quilt.
July 30th – Winners selected from the Flickr group.