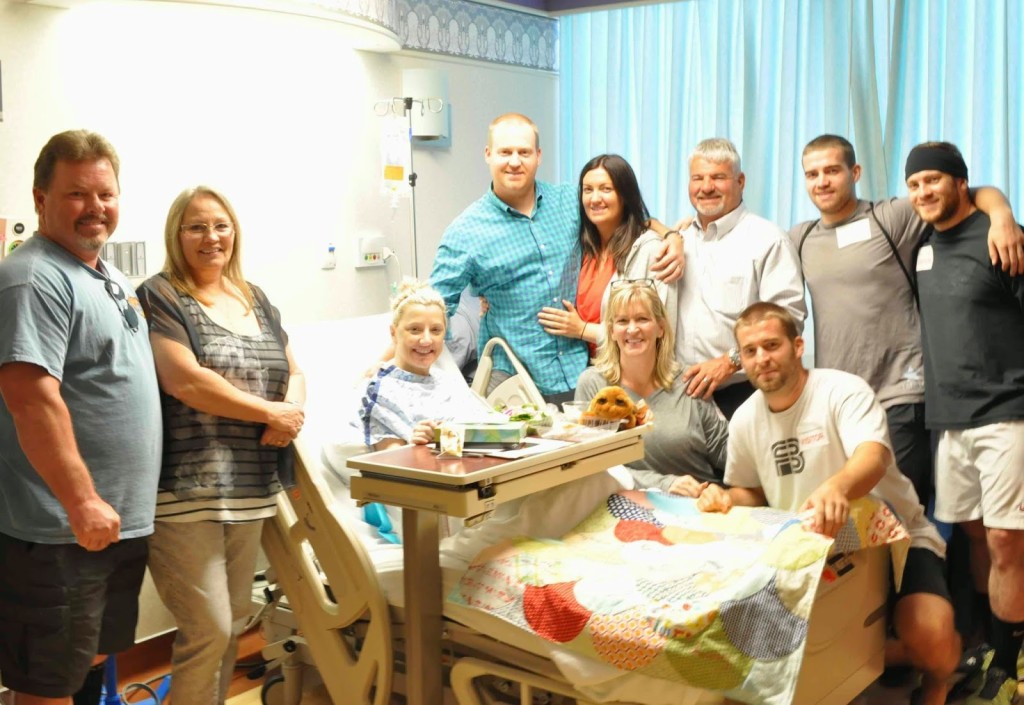 There is an elite club that many talk about. It is a club that has thousands and thousands of members. The members talk about it with such gleam and glow. It is the infamous Grandmothers Club. So this is my first official post about our little angel Nolan who is now 3 months old.
My son and daughter-in-law are a bit old fashioned in many ways. They followed this "new' trend of not finding out what the sex of the baby was. Imagine that, not knowing almost at conception whether you were have a boy or a girl. So this brought about 9 months of guessing. 6 of those months consisted of complete strangers predicting boy or girl. The gal at the nail salon assured us she has never been wrong, the neighbor down the street knew for sure, a friend of a friend previewed side profile pics of the mama and was willing to bet money she knew boy or girl. We didn't keep a tally of who predicted what, but all this did was add more confusion.
Not "knowing" also saved us lots of money because there is only so much neutral baby stuff one can possibly purchase. Don't really know if this was my son's plan all along but no matter what it saved us all a ton of money.
This also made the choice of making a quilt extremely difficult. Don't get me wrong during this time I made lots of baby quilts. The problem with that is when I am making a quilt for someone I like to know that from the beginning much like knowing if you are having a boy or girl when you find out you are pregnant. I like to think about the person while I am planning the fabrics. I like to plan what the design is and how it fits their personality. I like to think that I can make it just perfect. So add up all that pressure and imagine how I crippled myself when it comes to making the first grandkids' baby quilt.
I knew I would make more than one quilt for this wee little one so I just jumped in and made something that included all the existing family members.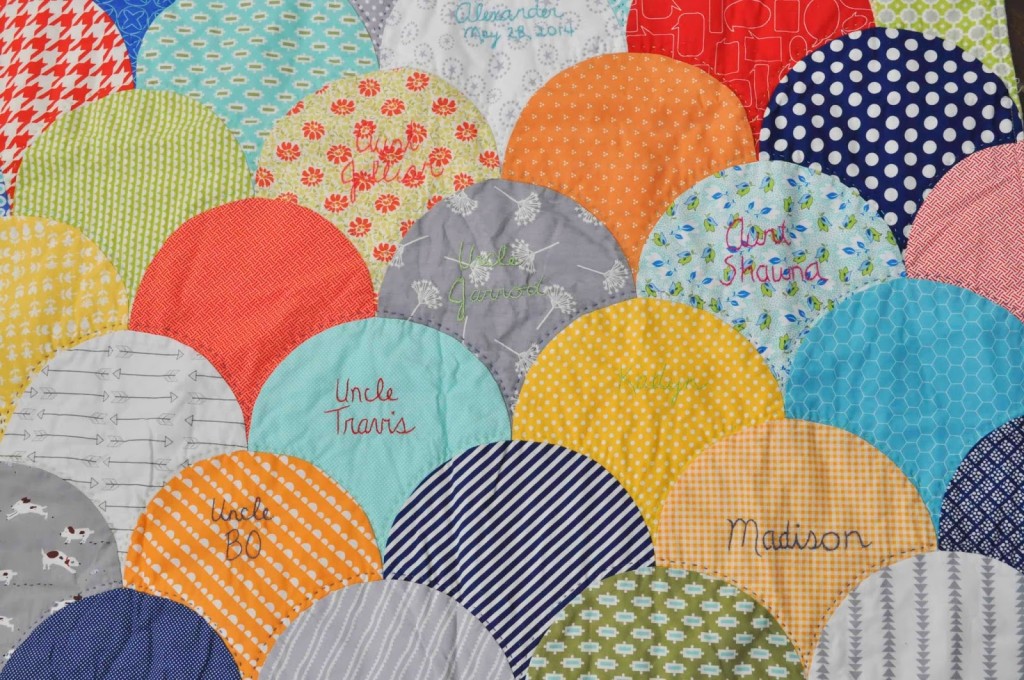 Using an accu-quilt die I made a big chunky clamshell quilt.I loved using this die and I will certainly do it again. I then embroidered all the family names on each of the clamshells.
The fun thing about this quilt is that I not only got to think about the new grand baby but also got to think about each of the family members and how one little person would forever change our lives. Those of you in the club completely understand, right?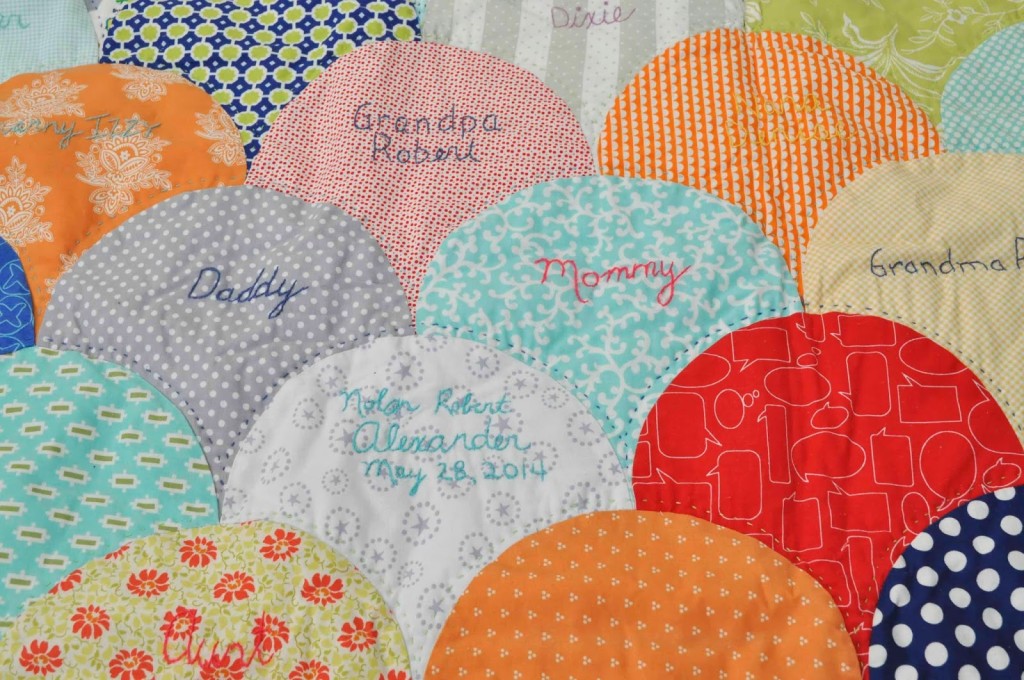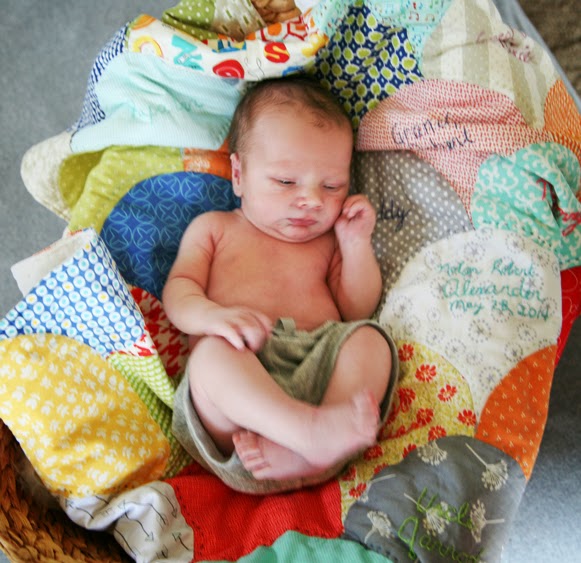 Nolan Robert Alexander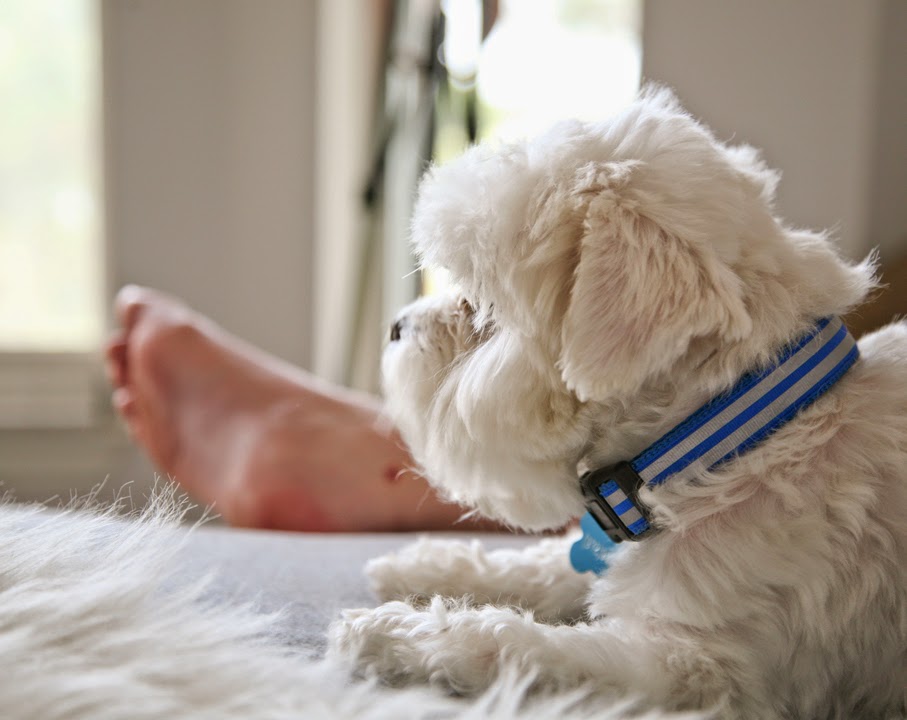 on a side note: I had to include a pic of his guard dog, Peter. I did not include pets on the quilt, so I had to go on record with a pic.