Each season before market I pull an all nighter. It is never planned, it just happens. I get on a roll, loose track of time and ta da it is morning. I thought this was going to happen the other night when I had a big bag of m&m's and monster energy drink standing by. I drank the monster and had a handful of "Quilters vitamins" as my Facebook friends call the candy coated chocolates. I was in bed by midnight.

I was recently in london where all the buzz of the pending nupitals was already in full throttle.

I loved this when Diana got married and I wont miss seeing Kate get married. William and Andrew are the same age of my two oldest sons. My oldest son is marrying his princess this year, so I will be on the lookout for wedding ideas. Hmmm! Should I wear a hat?

Well tonight is the big night (no Gary, I am not talking to you) it is the scheduled all nighter and wedding viewing party.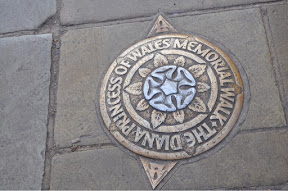 I have my sewing projects lined up. I am actually making a quilt for William and Kate. (that's how I roll) Of course they will have to wait until after market to receive it. No sneak peeks! The Royal military are guarding my blog and sewing room (actually dining room/sewing room).

Not my sewing room, just a pretty picture…
Lots of bobbins wound with auriful thread, stack of Moda fabrics ready, let the wedding begin.
Modalissa