Confetti Forest…
I love that name.
I wish I was the one that thought of it, but I didn't. It was the talented crew at
McCall's Quilting
that named my quilt. I couldn't have thought of a more perfect name for this quilt. Just the sound of it makes me think of fall and laying on a quilt, looking at the sky through the colorful leaves… Well scratch all that. That is what I think it should look like if I lived somewhere that actually had fall. We seem to go from Winter to Summer and not much in between. Yesterday it was 80 degrees, today it is 30.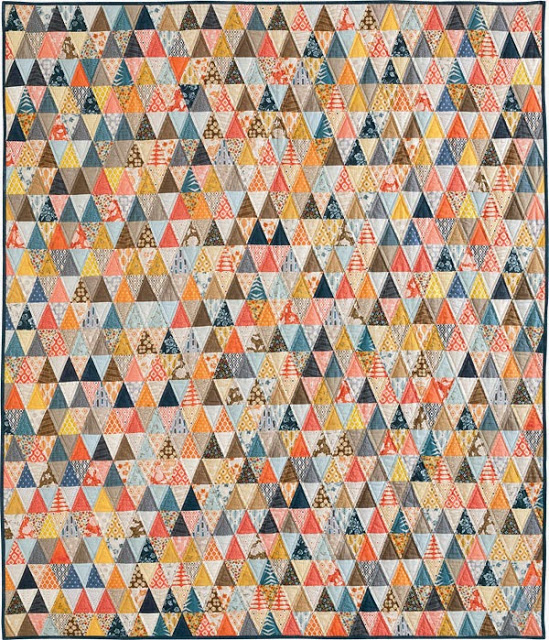 I guess I can enjoy my "fall" quilt at the lake or snuggle under my "fall" quilt when the temperatures plunge.
I combined two of my favorite lines, Persimmon by Basic Grey and Modern Neutral by Amy Ellis. But this is also a great scrap buster project. The complete instructions and yardages can be found in the McCall's Quilting January/February 2015 issue. To find out more information about this quilt, magazine and kit information please visit http://www.mccallsquilting.com/mccallsquilting/articles/Confetti-Forest-Trendy-Triangles-Throw-Quilt-Pattern
Subscriptions- November 11th on New stands November 25th
On a side note if you want to see more about Persimmon by Basic Grey, Alison shares the fabric line and patterns available. https://www.youtube.com/watch?v=SsaiYNUTWEE
And here is Amy Ellis talking about Modern Neutral fabrics, https://www.youtube.com/watch?v=-CTEUKppzf0
.