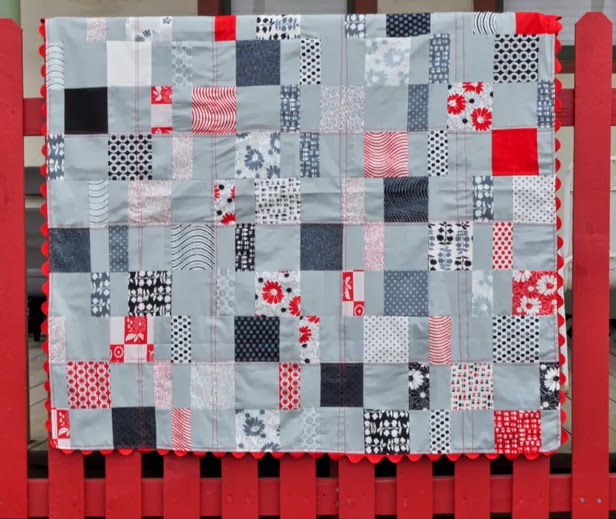 sorry for blurry picture on a windy day
I love love love this new fabric from Me and My Sister. I don't know why I love it but I just do. Maybe because it was so different for them. Is it retro, is it modern? Some of the prints look like vintage sheets, some are graphic, but each of the prints are down right adorable. I knew I wanted to play with these fabrics but had to no idea what to make. So when the Charm Pack Cherry project came along, I took it as my challenge. I have a niece that is studying graphic design at Texas Tech University, so I thought this would be a prefect quilt for me to make for her. Their school colors and red and black. Of course having a deadline did not hurt either, so here are the details.
Download your copy of the Charm Pack Cherry pattern, here.
All it takes is 2 print charm packs and 2 solids to make this fun project.
I decided to make my version as a picnic blanket or a throw that my niece can keep bundled up in the car. I used flannel instead of batting.Windy windy day!
I did some straight line quilting with Aurifil wool thread. This thread works great on my machine. All I had to do was use a size a top-stitching needle. I love the simple added texture the thicker thread gives to this project.
How I thought of picnic I knew that I had to use big jumbo ric rac instead of binding.
Here is the video showing how quick and easy this project is to put together.
No matter how you lay out the charms the project turns out different each time. It is like one of those slice and dice type projects.That is what makes the project so interesting.
by the way, the fabric line is Weeds and it will be in stores in May.
enjoy,
-modalissa