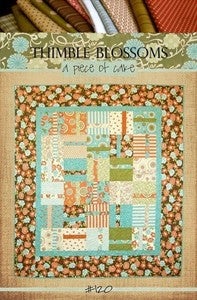 On the never ending quest to document the quilts I have made. Today's quilt roll is a quilt made from a
Thimbleblossoms
pattern, Piece of Cake using French General fabrics.
I loved how quick this quilt went together and it showcases the fabric nicely without cutting the layer cake into a bunch of little pieces.
I made this quilt during my year of the
PLAID
quilt backs. I try and pick a certain
TYPE
of fabric for quilt backs for a year. Not quite sure what year I choose plaids
for backing but it should all come together once I
get all my quilts documented.
Plaid binding cut on the straight of grain to form this checkerboard like binding.
I made Piece of Cake (#1) and in no time Camille has 2 more piece of cake patterns.
I can't keep up with my posts about the quilts I have already made much less all the quilts I want to make.
If there is therapy for this quilt sickness, I don't want treatment!
To see more color options of Piece of Cake (#1) visit Camille's blog post where she featured
lots of
PIECES OF CAKE.