Remember when I said I would never make a double wedding ring, but a pickle dish would be different? I have always been enamored with
Aneela Hoey's Pickledish quilt alon
g so I jumped in and gave it a try.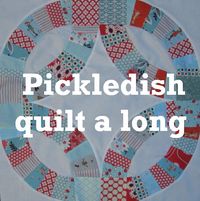 I have been collecting Greys and yellows for a while now.
I thought these were the perfect collection of
SCRAPS
to use in my pickle dish quilt.
The technique that Aneela uses is absolutely brilliant.
And as always it makes me happy to use a bunch
of different Moda designers fabrics in one project.
Believe it or not there is a
Deb Strain
valentines fabric mixed with
Kate Spain.
Add in some
Eric and Julie Comstock
with
Zen Chic
. Throw in some
V and Co
. Zig Zags.
You know I also used any grey or yellow dots
I could get my hands on.
Fun Fun Fun
The piecing of the arch's went together beautifully.
I made a practice melon to test my skills at curved piecing.
Not bad.
Pin it and they fit together like a glove.
Another interesting thing that Aneela did was to construct these as blocks
instead of rings with alot of partial seams.
At first I thought I would tackle this differently,
BUT
she was right.
Piece it as blocks and join the blocks together does makes it a breeze.
Also the block finish fairly large so the quilt gets big fast.
I was also able to use the tiny tiny grey pin dot as my background that
I had been hoarding Bonnie and Camille.
Jump in and give this a try. If you do be sure and send me pics.
I have already started collecting oranges and blues for a variation of this quilt in my future.
Things change so I don't think I will ever being saying NEVER again.
-modalissa